Hot desking offers an alternative to traditional working environments where employees have their own personal workspace and desk to sit at every day. Hot desking works either by employees choosing where to sit on a first come first serve basis, a seating rota, or sharing a desk with one or more others.
---

With laptops and flexible working time, hotdesking seems like a better idea than ever, but should your business put it into practice? Take a look at some of the pros and cons of hotdesking to decide whether it will suit your company.

Hotdesking Pros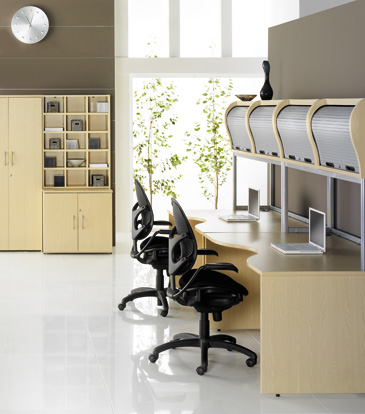 Cuts Required Space – In situations where shift work occurs, hotdesking can help lower a business's overheads by reducing the amount of rental space required. Businesses running two separate working shifts can reduce the size of the workspace by up to 50% if the staff are split equally between the two shifts.
Promotes Teamwork – sitting next to someone different each working day can help your employees get to know each other a little better and help you work better as a team. Mixing departments can help create more cohesion in the workplace and a better understanding of how the business operates.

Hotdesking Cons

No Personal Space – Your employees need to feel comfortable whilst at work to be able to be at their most productive, and this can usually be achieved by having personal space that contains their possessions. Hotdesking doesn't allow for this, as the desk is being shared.
Conflict of Interest – Hotdesking can cause a conflict of interest in the sense that pally colleagues could continually plan to sit together, regardless of whether it is beneficial to the working environment.   
Whether hotdesking or not, if you're looking for office furniture and are in the Bristol area, then Gazelle can help. We've got plenty of new and used furniture that can help you fit out a professional-looking office that promotes productivity. Give us a call on 0117 955 3668 to find out more.